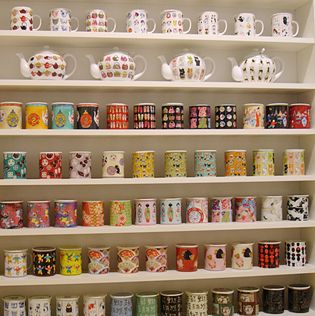 Thank you from Jewel

First of all, we would like to thank you very much for visiting our website. Many of you have never heard "Jewel-Japan" – here is a brief introduction about our company and our product range.
◆The company "JEWEL"
Jewel has been exporting high quality tableware over 40years. Located in Nagoya city, just in the center of Japan, surrounded by ceramic production areas with history, Jewel started in 1964 as a trading house specialized in ceramic export. It is a small company run by the Kowa family. Mr. Kowa, the boss, has been in this filed nearly a half century and he knows A-Z about ceramic tableware, Mrs. Kowa takes care of the finance to keep the company healthy, the elder daughter Kaoru has good experience as a textile designer and she now designs all our fancy products and the other daughter Hozumi flies all over the world as a sales manager also visits all factories as a production manager.
◆JEWEL's product range
jewel design
The range of practical everyday tableware with fancy, pop and colorful designs.
High quality porcelain, excellent workmanship from all production sides and the designer, Kaoru's detailed artwork inspired by traditional Japanese motives achieve this exclusive product range – JEWEL DESIGN –
jewel white
Unique collection of leading young designers of tableware. The beauty of its shape and the quality of the product is well accepted by the design oriented retailers world -wide.
jewel japan
Focused on the beauty of JAPANESE TRADITION, this range features the beauty of ceramic glaze, the skills succeeded generation to generation and traditional patterns and colors. Jewel interprets the tradition to fit practically in modern lifestyle for the people who enjoy using everyday tableware with esprit.



JEWEL TRADING CO.,LTD rm203 NAGONO BLDG.NORTH,1-14-18,NAGONO,NISHIKU,NAGOYA 451-0042 JAPAN
TEL:+81-52-569-1125
FAX:+81-52-569-1127
EMAIL:fair@jewel-japan.com